Hello everyone! MattMan here. The new MSN change has finally hit the previewer groups. This may be my last update to my site, not sure yet. Anyway lets start off with some postings from the Mod in the Gold group fallowed by some pics of a new feature we'll be getting and some updated pics of the new MSN look..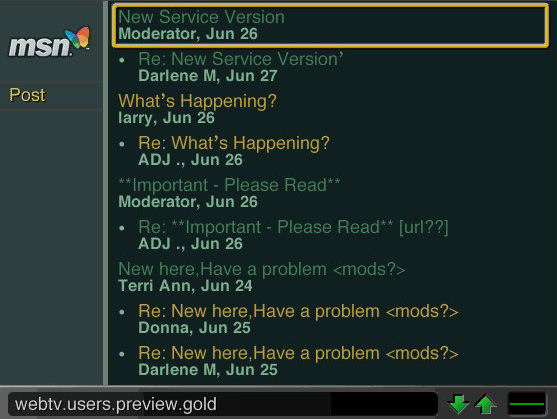 ----------------------Post 1--------------------
Hello everyone,
Our Service testing continues with a new version being rolled out during tomorrow morning's down-time.
Known Issue:
On Web Home, when using the search bar, if you click on "Go", you will be taken to the search page, but if you type the search criteria and hit [Enter] on the keyboard or remote, you will be taken to the search results page.
Happy testing,
Dave
----------------------Post 2--------------------
What are my responsibilities as a Previewer?
Your role is to test new software (and possibly hardware) not yet released to the general WebTV customer base. It is your job to report any problems you have with the new products and to provide the Previews Team with feedback. Your feedback is vital to the success of WebTV. The Previews program exists to find the bugs that have made it past everyone else. To ensure we overlook nothing, we need to maintain an atmosphere where everyone feels safe to report problems or inconsistencies in the newsgroup. Therefore it is absolutely necessary that every member of the Previews Program conduct themselves in a professional manner within the group. Any abusive, threatening, or inappropriate behavior will be addressed immediately.
We encourage everyone to have fun and make this a positive and rewarding experience.
When and how do I file a Problem Report (PR)?

A PR should be filed whenever you've discovered a bug. If you're not sure if what you've discovered is a bug, consult your fellow previewers through the newsgroup. If you're still unsure whether what you've discovered is a bug, file the PR and the moderators will make a determination. It is vital that we do not overlook anything.
The PR form is accessed through the group home page. A link to this page can be found on your "Welcome to WebTV Previews" email along with the username and password.
When filing a PR it is extremely important to be as detailed as possible, using Standard English when describing the issue and steps to reproduce. The steps to reproduce should include each individual step to achieve the behavior specified in the Problem Description. Be sure to include all relevant information (i.e. url where the bug occurs, the time of day the slow loading occurs, actual time in seconds it takes to load a page.). If you are unable to determine the steps necessary to reproduce the bug, file the PR and specify that within the Problem Description.
What is acceptable in the newsgroup?

The newsgroup is a forum for discussing WebTV performance issues. Common posts include: "Has anyone else seen this?" "Hey everyone, try this and see if you get the same result? " "Help! I can't figure out how to do ." It is also the most common method employed by the moderators to request specific information, often requiring immediate response. It is expected of everyone to treat the newsgroup as a professional forum for discussing bugs and WebTV. It is also to be expected that occasionally we will disagree with the opinions or preferences of others in the group. Therefore we must all agree to disagree. We're all working toward the same goal of maintaining WebTV's superiority in the Internet/TV arena. **Important**
Any threatening, abusive, or inappropriate posts to the newsgroup or email to fellow previewers will be addressed immediately by the group moderator and may result in immediate removal from the Previews program.
How do I contact the moderators?

Moderators can be contacted three ways:
1.Email - send email to previews@corp.webtv.net 2.Newsgroup - Submit a post to the newsgroup with your request. Include "Mods." In the subject line.
3.Previews Hotline - **Important** The hotline should only be used if you are unable to connect. If you are in fact unable to connect call 1-800 Go WEBTV (469-3288), tell the operator that you are a member of the Previews Program. The operators are instructed to conduct basic trouble-shooting first. If they are unable to assist you, you will then be transferred to the Previews Hotline.

What do I do if I've discovered Previews related information posted on an

external web page?
If you discover a leak, notify the moderator previews@corp.webtv.net by email only! DO NOT post the information or link to the newsgroup. Posting this information only helps to promote the leaked information to a larger audience.
Can I include an html sig. when posting to the Preview Group newsgroup?

No. Please remove HTML sigs. prior to posting to the newsgroup. The exception would be if you are testing a specific bug concerning html sigs. However, we do request that you include your unit type in your post.
I bought a new WebTV unit; will this affect my Previews status?

It is very important when changing units that you inform the moderator of the change. The Preview groups are generally unit specific and it is important that to the appropriate Preview group.
I filed a PR and the problem persists, do I continue filing PR's?

Depending on the type of issue, it could take months to implement the fix. Any follow-up concerning the status of the PR can be directed at the moderator through a newsgroup post or email.
There is no upgrade to test, what are we supposed to do?

Although there are times when we are not actively testing a new software or service version (we refer to this as a lull), testing for Previewers never really ends. Previewers should always be on the lookout for bugs and be filing PR's when they are found. In essence, a Previewers work is never done.
How often should I check the newsgroup and homepage?

We recommend checking the newsgroup as often as possible, at a minimum once per day. If you're online, you should check back hourly. We often need instant information from the Previewers so that we can to get it back to the developers ASAP.
We also recommend checking the Homepage daily for any updates. The homepage contains information about current or upcoming trials and also contains a list of known issues to help avoid duplicate PR's.
I want to quit the Previews Program. Who should I contact?

Please send an email to previews@corp.webtv.net requesting removal from the Previews program.
Please note that the Non-Disclosure Agreement (NDA) you signed before entering the Previews program will continue to be in effect after you are rolled out of the program. You will be in violation of your NDA if you discuss any of the features you tested as a Previewer before these features are released to the rest of the WebTV community. We appreciate your cooperation with this matter.
----------------------------------------------
To learn more about being a Previewer, follow this link http://vega.webtv.net/preview/previewing.html




----------------------New Features--------------------

Looks like we'll be able to use are hotmail and msn accounts on webtv as well now. When you goto your mail list or account setup and have added a hotmail or msn user to your account it will show up as user@hotmail.com rather than user@webtv.net Pretty Cool!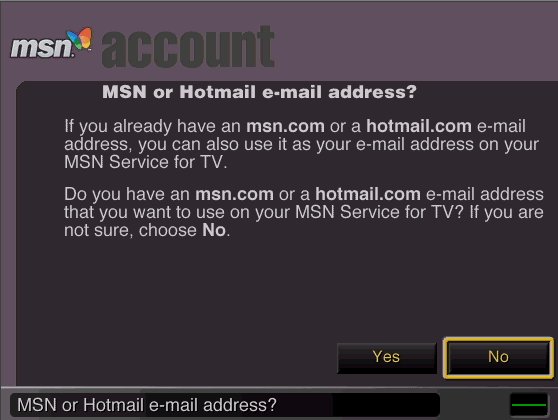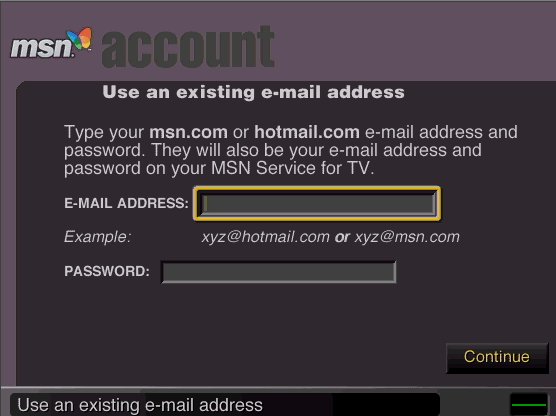 Note: user names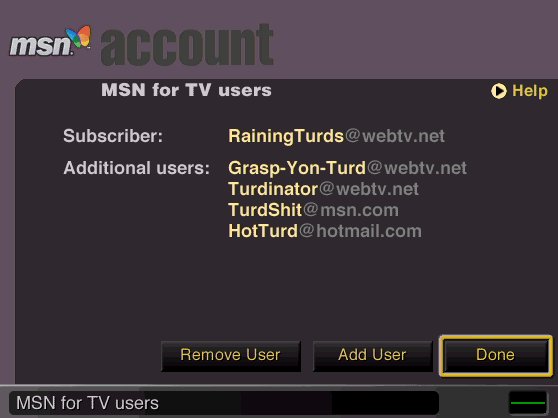 ----------------------Webtv's New Look--------------------
Below are some updated pics of the new look we'll be getting. Most of you seen the prototype pics I had up at the Rumor Mill. These pics are still available for viewing and with source codes included. View them here Turdinc.kicks-ass.net/Msntv/MSN.htm