WebTV'er MattMan69 TOS'ed For Secret Pics





By Net4TV Voice News Staff
(April 11, 1999)

For months, WebTV users interested in what was coming in future upgrades have been checking out MattMan69's Secret Pics, a WebTV user site offering pictures of Doom and other information from inside the Previewers' versions. Matt Squadere, Mattman69, wasn't a Previewer himself, but says he had information that was being passed to him by a number of Previewers, as well as "tricks" from the WebTV hacking newsgroups. MattMan's site also offered photographs of the WebTV hard drive, circuit boards, and of the "sprout," code name for the new Classic that Sony revealed in our last issue of Net4TV Voice. This week, Mattman69's WebTV service was terminated without warning. The written notice he received from WebTV stated:
Your continued abuse of the WebTV Network, in violation of the WebTV Terms of Service, required that we terminate your right to access to the Microsoft WebTV Network to prevent continued unauthorized access to restricted parts of the WebTV Network service. This letter serves as your notice of such termination, as several e-mail warnings to you regarding your abuse have not obtained your compliance with the Terms, to which you agreed as a condition of your access to the WebTV Network. Accordingly, your account was terminated on April 5, 1999. This termination is permanent and means your WebTV box and all existing accounts associated with it have been discontinued and will not be reinstated for use with the WebTV Network. If there were any pre-paid monthly fees for unused months, this amount will be refunded to you, however, there is no refund for any partially used month. For further questions regarding your account, you must contact WebTV Legal Affairs in writing at the following address: WebTV Networks, Inc.
c/o Subscriber Legal Affairs
1250 Charleston Ave.
Mountain View, CA 94043
No Prior Warning -- But A Jacket in Gratitude
Matt was shocked. He says that not only had he not received any prior warning by email, as his termination letter stated, but that he had actually assisted WebTV in closing some of their security holes. He says his last attempts to access the "unauthorized areas" had been at the request of a WebTV employee, specifically to test that the holes had been closed, and WebTV had sent him a jacket to thank him for his help. Mattman explains on his website:
WebTV never sent me any e-mail warnings about accessing restricted areas. The only e-mail I got from WebTV was from three WebTV@corp employees asking me how I got into Weekly and TestDrive (service areas). I gave them my phone number and told them to call, and then told them the steps I used to access Weekly/TD back in November, 1998. They all said thanks and, a few days later, I was e-mailed by one of the Corps telling me that Bruce Leak of WebTV appreciated my help and wanted to send me something as a thank you. He sent me to the webtv store and told me to pick out any one item and it was mine. I picked out the jacket and a month later I received it. I just don't get it. One minute, WebTV is thanking me and the next they're terminating me???? Since the last TD breakin (in November), I have not accessed any unauthorized areas, as WebTV calls them. And you can't count the green previewer group because I never accessed it (I couldn't). I was sent all the pics by different Previewers. Shortly after they fixed the gateway to Weekly/TD "again," I was contacted by another WebTV employee who asked me to try to download upgrades just to make sure they indeed did fix the problem. I did what he asked and told him that I had no success. So not only did I report a potential security risk and was thanked, but was also given the authority to try and access these upgrades by a WebTV employee. Whether this employee had the authority to do this, I don't know. But I should not be held accountable for something I was asked to do by someone from the (WebTV) Network.
An Interview with Matt
Net4TV Voice interviewed Matt to get more information about his exchanges with WebTV corporate (WNI) and how the "tricks" started. Matt told us that after he received his first WebTV Classic as a gift, he migrated to the WebTV newsgroups and began participating in alt.discuss.webtv.hacking, one of the firewalled WebTV-only newsgroups where users exchange tricks they have discovered with the WebTV box. A number of WebTV corporate employees also have participated in this newsgroup. Matt says that, in August, 1998, someone in the newsgroup was given the password for the WebTV Tricks area of the service and it was passed around.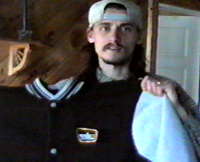 Matt shows off the WebTV jacket given to him by Bruce Leak in thanks for his assistance in closing security holes.

Quite a number of WebTV users accessed the area and downloaded upgrades and other items such as Doom. Although the entrance was password-protected, the pages inside the area were not, and a number of the "tricksters" put links to the internal pages in their emails, with notes such as "click here for the upgrade." The links accessed an area known as "FlashROM Willie" where unprotected upgrade builds could be downloaded. "A lot of people ended up there by accident," says Matt. "They clicked on a code in someone's sig and there they were, with no idea where they really were." In August, prior to the release of the 2.2 update for the Plus, Net4TV Voice was sent such a link in an email and was able to take a Plus through the download process, although the box was not actually upgraded. Net4TV Voice saw no warning message or notification that we were in a private area, nor was a password required after clicking on the link. In September, Matt and several other members of the "hacking" newsgroup were contacted by WNI employees and were asked for information on how they were getting into the area and what they were finding. The doorway was then closed. Afterwards, in the newsgroup, one of the WNI employees posted "accessing TestDrive would be a good trick," says Matt, but also says that none of the members of the newsgroup were told that they were at risk of being terminated. In November, when Matt discovered he was able to access the area again, he called 1800GOWEBTV and reported it. He was called by WNI employees "Jeff," "JM" (JMuntiz) and KGarwall for information. He explained how it was done and the security hole was again fixed. KGarwall was the WNI employee who emailed him that Bruce Leak had appreciated his help and quick response, and offered him an item from the WebTV store. Matt says that shortly after this in November, JMuntiz ("JM") contacted him from WNI, said that the problem had been fixed, and asked him to test it again. Matt tried and reported that he was unable to gain access. According to Matt, this was his last attempt to access the private area. "I've had no contact from WNI this year prior to receiving the termination letter," he states, "except an email that I received on April Fools' from an employee laughing about an April Fools joke." Matt discovered his account had been terminated when he tried to sign on earlier this week and was presented with a termination screen. At this writing, Matt says has not been notified of the actual cause of his termination. He has attempted to communicate with WebTV Networks by the 1800GOWEBTV number to determine the reason, but they will neither discuss it with him nor will provide him an email address to communicate to the Legal Affairs Department. The termination letter he received from WNI was not signed. Matt does acknowledge that he received a warning last summer for a mail bomb. "I was not aware that it was a bomb code," he says. "I got it out of the hacking group and I forwarded it to someone else." Matt says that he had a conversation with the Compliance Department regarding it, and that it was resolved. "That was a long time ago and was not intentional, " he says, "it is is the only time I ever had any dealings with the Abuse department."
Violations Of WebTV's TOS?
New purchasers of WebTV systems may not realize that, when they subscribe to the WebTV Network to activate their box, they will be presented with an extensive contract to which they must agree before they will be able to go online. The WebTV Terms of Service, which is not provided to purchasers of the hardware prior to or at the time of the sale, includes the following:
WNI may, in its sole discretion and without prior notice (i) restrict or limit access to the WebTV Network; (ii) terminate a user account or user sessions at any time; or (iii) discontinue or modify any or all aspects of the WebTV Network or its services. You agree not to use the WebTV Network for any commercial or business purpose and to indemnify and hold WNI harmless from any claims of damages relating to any commercial usage, service interruptions or termination of service, whether intentional or due to technical problems, or any enforcement or non-enforcement by WNI of these Terms.
The Terms of Service go on to state that WebTV Networks can change the Terms at any time without notification and that it is the user's responsibility to know (somehow) whenever the Terms have been changed. Although WebTV has the email of every subscriber, it does not notify its subscribers when it changes its contract. WNI state that continued use of the service after a change signifies that the user agrees to it, even though they may not know about it. The TOS has been changed a number of times since WebTV service went on line; the last change was in November, 1998. Net4TV Voice asked Matt about whether he was aware of WebTV's Terms of Service when he signed onto the box. "Not really," he said. "I received it as a present, and was eager to get online. I saw fifty paragraphs of legal stuff I didn't understand and a button that said "Agree" that connected me. It was only after I found the newsgroups and a discussion started that I ever actually read the Terms of Service, and I still don't understand all of that legal writing."
Mixed Opinions
Matt says that the opinions in the WebTV newsgroups have been mixed. "Some people have said that I could be terminated because I took the cover off the box and took pictures," he says, "and that this is a violation of the Terms of Service. I don't understand -- I bought this box (he now has a Plus), and I can't see how they think they own it. I repeat -- I was never presented with a screen telling me that I was in a forbidden area when I went in on my own; the only time I saw that this had been added was when the WNI employee asked me to try to get in to see if the hole had been fixed." Matt's own opinion is that he may be caught between two non-communicating factions at WNI. "I've had cooperative and good relationships with the WNI technical staff," he says, "but apparently, some other part of WNI doesn't like it. But they have never asked me to stop, by phone or email, have never issued me a warning, and never asked me to stop posting pictures on my website, either. If they had asked, I would have stopped." Matt points out that he had never signed any NonDisclosure Agreement with WNI. "I enjoyed exploring the box," he says. "If we all only knew what WebTV officially told us about, the WebTV experience would be a lot less. The users exploring and experimenting has extended the capabilities in a lot of ways." Matt has asked WNI to reconsider and reinstate his account. His letter to WNI can be read on his website. Matt says that his biggest loss is his email, address list, and the hundreds of favorites that he had collected. Unlike with PCs where a change or termination of service does not mean these are lost, WebTV email and favorites are stored on the WebTV servers and are deleted when a user account is terminated. "I'm hoping I can get them to at least cut on my service long enough for me to get my email, favorites, and address lists out," he says. "I enjoyed WebTV and I'm really sorry to lose the service, but losing my email and addresses is the bigger worry for me right now." In the meantime, Matt can be contacted at matt_man69@usa.net. Net4TV Voice has not yet been able to reach WebTV for comment because this story is breaking over the weekend, but we will attempt to do so on Monday and will publish WNI's response in an update. Mattman69's Termination Page