Thanks to MR. Wish and the BlueMole for these
Previewer Home Page May of 2000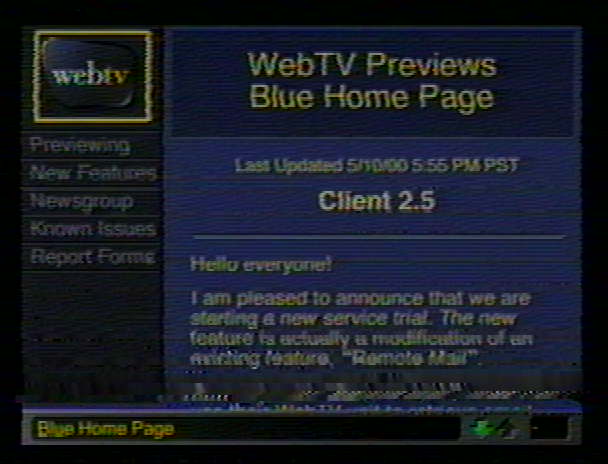 Hello everyone!
I am pleased to announce that we are starting a new service trial. The new feature is actually a modification of an existing feature, "Remote Mail".
Currently with "Remote Mail", users can use their WebTV unit to retrieve email from other email accounts, i.e. Hotmail or MS Outlook. The new feature works in reverse, allowing users to retrieve their WebTV email from a PC or another WebTV unit. WebTV account. Pretty neat, huh?
Here are some scenarios on how this feature will work: WebTV to PC Joe has a computer at work and a WebTV unit in his living room. He has used an MSN account for several years and was thrilled to learn that he can now access his WebTV email from both Outlook Express and WebTV. WebTV to WebTV Bill and Eileen are retired and use their WebTV to communicate with friends and family. They travel a lot, and one thing they love about WebTV when they are not at home is e-mail. With the new "WebTV Remote Email" feature, they are able to access their WebTV e-mail from their friend's and family's computers as they visit. Therefore, they can access their WebTV mail from Hotmail, or from another WebTV box. For this service trial, we will only be testing "Remote WebTV Mail" with:
Outlook
Outlook Express
Hotmail
Please complete this survey (select URL below), so we can determine who is best suited for this particular aspect of the trial. Remote WebTV Mail Survey Thanks!
-------------------------------------------------------
Andrea Last Updated 3/03/00 10:43 AM PST We are now in the middle of testing our latest upgrade (Client 2.5). With this new client you will see the addition of some very exciting features. For the time being we will be having you focus your attention on our new Messenger feature. With the Messenger feature you will be able to send and receive "Instant Messages" to and from your friends. You will also be able to create a "Buddy/Friends List" which will allow you to know which of your friends are currently on line. The default setting for the Messenger feature will be "ON", so if you do not want the feature active for one of your users you will need to turn it off. In order to test this feature to it's fullest I am going to ask you to make friends with everyone in the group (which I am sure will not be a problem). Please feel free to add my to all of your "Buddy Lists." My email address is marhubba@webtv.net . I have discovered that the easiest way to add people to your list is by going to the "Options Panel" and selecting Messenger. At the bottom of the panel you will see a button labeled "Contact." Select the "Contact" button and enter the complete email address of the person you would like to add to your list. (i.e. marhubba@webtv.net). I hope that all of you are as excited about this as I am. Hurry and add me to your list so that we can start sending instant messages... See you online, Marcus
-------------------------------------------------------
2/28/00 This past Friday we released a new service build to you. Instead of running Hiphop you are now running Hiphop-E. What does the E stand for you ask.... don't worry it is not important. What this service release did was lay the ground work for you to receive a new client build (2.5). Hopefully this build will be offered to you sometime later this week. I will be sure to post to your newsgroup before it goes out. I will also be adding a "known issues" section to your homepage. Be sure to check that page before you submit a Problem Report. Thanks!
Known Issues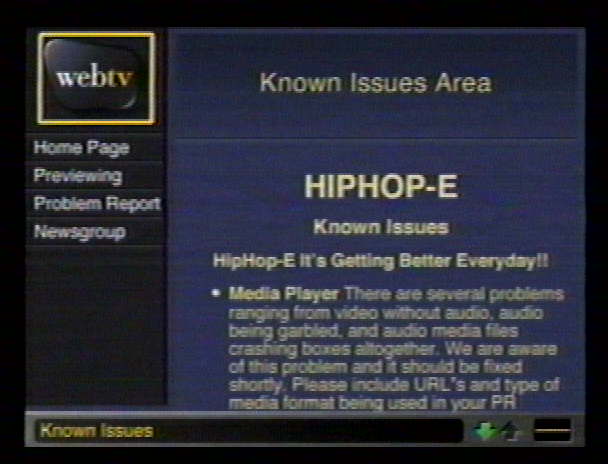 Known Issues
HipHop-E It's Getting Better Everyday!!
Media Player There are several problems ranging from video without audio, audio being garbled, and audio media files crashing boxes altogether. We are aware of this problem and it should be fixed shortly. Please include URL's and type of media format being used in your PR reports.
IRC You may receive the message "You may only vist rooms sponsored by WebTV" when trying to use internet related chat services, such as Talk City or Geocities. We are aware of this problem. Please report results via the problem report form.
Settings You may notice that Background Music and Text Size are not remaining set where you left them. We are aware of this problem and it should be fixed shortly. If you notice anything else in settings going astray please let us know.
Messenger Unavailable You may notice that when you first login to WebTV you may receive the messenger unavailabe message appear. Try reloading the page and try accessing messenger again. Page Too Large You may notice some error messages on WebTV and External Pages that say 'This Page is
Too Large to Be Displayed' Please note what page you were on and try reloading the page and if still a problem please please power off and back on. Please report results via the problem report form. Adding Images in the Newsgroups You may expereince some hanging or inactivity when trying to add images to the Newgroups. Please report which NG you were trying to post to and what you were trying to post if you experience this problem.
Back to secret pics index