Blue Home Page
Last Updated: 05/08/01 5:00 pm PDT
---
Hello Everyone,
Welcome back to work! The build you will be receiving is 7681. The Alpha testers have had these builds for over a week and it seems to be holding up well. Please take a look at the Known Issues. I have left the bugs and fixes for the previous builds to give you all a point of reference.
Please use the Standard Tests as a guide for testing each new build. If you will not have time to complete all of the tests, please skip around to make sure we get adequate coverage.
You'll also notice the Survey link on the side bar. Please take a few days to get familiar with each build, then complete the Survey. I ask that it is completed within 4 days after receiving the build.
Get out the big can of Raid and let's squash some bugs!!!
-Dave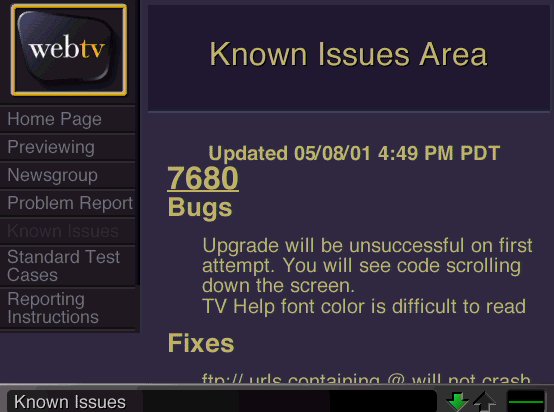 Known Issues Area



Updated 05/08/01 4:49 PM PDT

7680
Bugs

Upgrade will be unsuccessful on first attempt. You will see code scrolling down the screen.
TV Help font color is difficult to read

Fixes

ftp:// urls containing @ will not crash unit any longer.

7678
Bugs

Upgrade will be unsuccessful on first attempt. You will see code scrolling down the screen

Fixes

Sites requiring login information will no longer crash the unit.

7674
Bugs

Log in pop-ups will crash the unit. This will affect some sites which require name and password to enter.

Fixes

Highlighted text now uses different background and text color to increase the visibility.

Check out the Survey