Windows 10 Monitor Shut Off Tool v1.0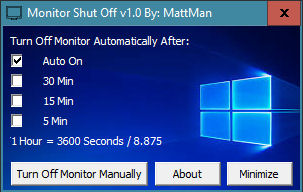 Fix (not really) for Windows 10 Monitor not shutting off. Can be used for all versions of Windows. Win 10 has some sort of problem likely related to USB drivers or something connected to a USB port or other various reasons. So rather than fix the problem I made this tool to
deal with it lol.
• Works on all versions Windows
• Version: 1.0
• File size: 16kb
• Released: 4/22/2020
• Price: 100% Free!
Features:
• Minimize to System Tray
• Turn monitor off manually
• Automatically turn monitor of after
1 Hour
30 Min
15 Min
5 Min
• Timer to stare at to see when auto shut off will occur. 🙂 Timer resets every time mouse is moved.
Get it here: Download Now!