No Solder Mod: In my mind this is one of the best mods to get if your looking for easy installation and reliability. I use this mod and it works great! Click Here for instructions on how to install this.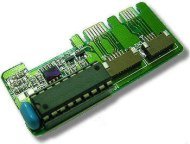 Booting Backups: Booting up your backups with the no solder mod is pretty simple. It requires that you have a GameShark2, a Action Replay2, or a Swap Magic CD(needed for v7 +) and uses a easy swap method. Click Here for instructions on how to boot your backups.

Making Backups: To make backups of PSX games and PS2 CD rom games I use Clone CD 4. This program is very easy to use and gets the job done everytime. I have not yet come accross a game that Clone CD 4 won't copy. I do not suggest burning over 4X speed.

To copy DVD rom PS2 games I use Prassi PrimoDVD2.0 Also the media you use is very important. Sometimes the cheap brands just will not cut it. I suggest you use dvd-r's as the PS2 sometimes has trouble reading dvd+r depending on what version you have. Suggested meida, Verbatim, TraxData, and Datasafe, Maxell's seem to work also but make a little more noise when the PS2 reads them. I do not suggest burning over 1X speed when burning DVD's. You can find tutorials on Clone CD and PrimoDVD below.
Clone CD Tutorial
PrimoDVD Tutorial

No Mod? No Problem! Some people out there are just to cheap to buy a mod. So for all you cheapo's I will explain how you can boot backups of PSX and PS2 CD games without a mod. I believe this method would also work with DVD backups but you would need to be very quick and preform a dubble swap within 5 seconds. There are other mothods out there but I feel this one is the easiest at the time of this writing. Click Here for instructions.


---
| | |
| --- | --- |
| | Other Related PS2 Hacks |