Playstation 2 V5/V6/V7 Chip Installation Diagrams

CLICK HERE for operating Instructions
PS2 V5/V6/V7 Chip "No Solder" Mod Chip Installation Instructions
Please make sure the Playstation 2 Model you are modifying is a model with a model no. SCPH-3000xR, while the X can stand for different numbers (picture 1). If the model is correct, please open the Expansion Bay to check if your unit has the screws like in picture 2.
The model numbers can be SCPH-30001 R, SCPH-35001 R, SCPH-30002 R, SCPH-30003 R, and so on.
Whatever the model number is, it must have the R after the model number.

V7: If your model# is SCPH-39000, 39001, 39002, 39003, 39004 or 37000 you have a V7 PS2 main board. Witch is also compatable with this chip!

The model shown below is used for reference only.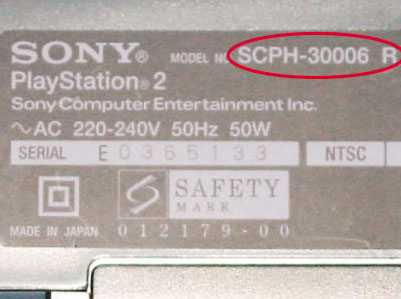 Make sure to double check that the screw shown below is actually in your system.
Simply take out the expansion slot cover and check to see if the screw shown below is in your console, if it is, it is safe to purchase this modchip as you have a V5/V6 console.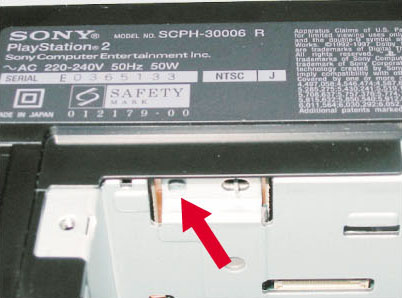 (1) Please prepare a screwdriver and a tweezers (for the flat ribbon cable).
(2) Unplug the power of your PS2 console.
Turn over the PS so you can see that 8 plastic covers as shown in the picture.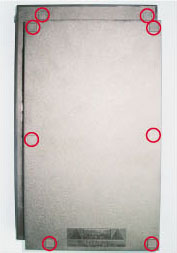 (3) Remove the 8 covers and unscrew the eight screws.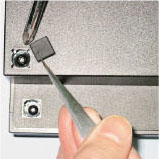 (4) If there is a sticker on your consoles, remove it as shown below.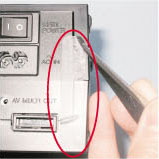 (5) Remove the upper part of the PS2 case now.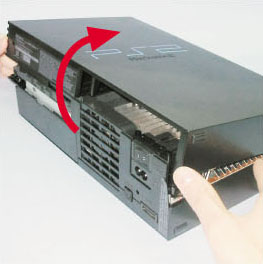 (6) Remove the power and eject buttons as shown in the following illustration:
(7) Remove the screws as shown below to remove the lower casing of the PS2 console: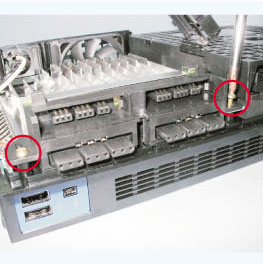 (8) At the left side, near the CD tray, there are 3 flat ribbon cables, as shown in the first of the two following pictures.
Unplug the left and the middle one of the three cables.
(9) Connect the two flat cables to the PS2 R-Mod Board exactly as shown here: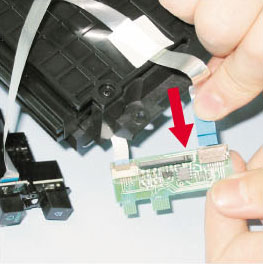 (10) Now connect the PS2 R-Mod to the two connectors where you previously removed the two flat cables.
(11) Now Re-assemble the PS2. There was No soldering required.