Update: Version 1.5
View your WAN or LAN IP with ease.
Download here http://turdinc.kicks-ass.net/LinkCount/click.php?id=IpViewer1.5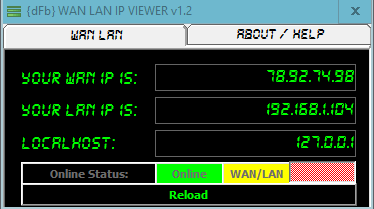 Install Notes: To install simply open dFb IP Viewer v1.5.msi and fallow the directions on your screen. This program is 100% free no cracks needed.
Chang log: v1.5 added a adapter viewer. v1.4 runs faster. v1.3 bug fixes. v1.2 now shows your online status. It will detect if your online or offline and weather your on WAN only, LAN only, both, or nothing!
If your just looking for quick and dirty stick with v1.1 here http://turdinc.kicks-ass.net/wordpress/?p=22
Works on all flavors of Windows